In light of the global fight against COVID-19, The Katerina Hotel is stepping up its cleanliness and social distancing protocols by launching the 'CleanLiving' initiative. To assure all guests, employees and visitors can continue to enjoy our hotel without any worries, we have implemented a series of health safety measures, approved by professional guidelines.
Employee & Guest Health
1. Washing Hands & Hand Sanitizers
As advised by KKM, the most effective method of preventing the spread of the COVID-19 virus is by regularly washing hands with soap and water. In situations where soap and water is not available, 70% alcohol content hand sanitizers will be provided. At various high contact points, we will also be providing contactless sanitizer dispenser stations using foot press activating system. Liquid soap will be readily available in all public restrooms and employee washing stations. The housekeeping team will be checking all soap dispensers 3 times daily to ensure that no dispenser will run out of soap undetected.
2. Front of the House Signage & Face Covering Requirements
At all times around high contact points where social distancing of 2 meters is not achievable, the usage of face coverings is mandated. Hospital grade face masks will be available for purchase at our front desk and concierge should any guests forget to bring one. Face mask wearing reminders will be placed at high traffic areas within the hotel.
Our specially commissioned hygiene ambassador will focus on implementing enhancements to already stringent procedures around the hotel and to remind guests on the proper way to wear, handle and dispose of coverings. The hotel bears the right to refuse service if any guests refuse to comply with this rule.
3. Back of the House Signage
Signage that aligns with KKM requirements, including how to avoid infection will be posted at employee's locker area, break room, cafeteria, kitchen and other areas where employees frequently enter or exit. Signage will remind employees of the proper way to wear, handle and dispose face coverings, use gloves, wash hands, sneeze and to avoid touching their faces.
4. Employee & Guest Health Concerns
Body temperature measurement using a non-contact infrared thermometer will be administered at all entrances into the hotel. Contact tracing information will be collected at entrance of hotel. This data collection step will assist us in rapidly identifying secondary cases, in the event of any primary case detections within our premises.
Responding swiftly and reporting to local health officials any presumed cases of COVID-19 at the hotel property is a staff-wide requirement. Employees exhibiting symptoms of COVID-19 should remain or return home. While at work, employees who notice a co-worker or guest exhibiting symptoms of COVID-19 should immediately contact a manager. Any employee who is found to demonstrate body temperature measured ≥ 38°C or have respiratory symptoms (shortness of breath, cough or sore throat) are to be sent for immediate medical treatment, and shall not be allowed to enter the premises or attend work in the operations. Any guest who is found to demonstrate body temperature measured ≥ 38°C shall not be allowed to enter the premises. Confirmed cases of COVID-19 should be immediately reported to local health authorities in accordance with appropriate actions recommended by the KKM.
Employees Responsibilities
1. Hand Cleaning
If not wearing protective gloves, all employees are mandated to follow the hotel's rules regarding frequent handwashing and use of 70% alcohol content hand sanitizers. Employees are required to wash their hands for at least 20 seconds, or use sanitizer when a sink is not available, after any of the following activities: using the restroom, sneezing, touching the face, cleaning, smoking, eating, drinking, accepting items from a guest (ID, cash, credit card, key card), taking a break, and before a shift and as needed throughout the shift. Also, housekeeping staff should clean hands or change gloves between cleaning guest rooms. When possible, employees should wear gloves for added protection and sanitation efforts. Proper hand hygiene should be followed prior to and after removing the gloves.
2. COVID-19 Training
All employees will be briefed on elevated sanitation and hygiene protocols by their managing supervisors. Employees with frequent guest contact including Housekeeping, Food & Beverage, Public Area Department, Hotel Operations, Security, Valet/Door/Bell Services, and Maintenance/Engineering will be especially monitored by management for SOP adherence.
3. Face Coverings & Other Protective Steps
Face coverings or face masks are absolutely mandatory for all employees of the hotel throughout the day. Employees in high contact departments such as housekeeping and food and beverage are required to also wear disposable gloves in conducting their jobs.
Cleaning Protocols
1. Public Spaces & Communal Areas
High-contact points will be sanitised hourly depending on frequency of use (e.g. elevator buttons, door handles, etc). Contactless technology will be deployed where possible to minimise physical contact (e.g. E- payment, QR code ordering system, contactless check-in/check-out).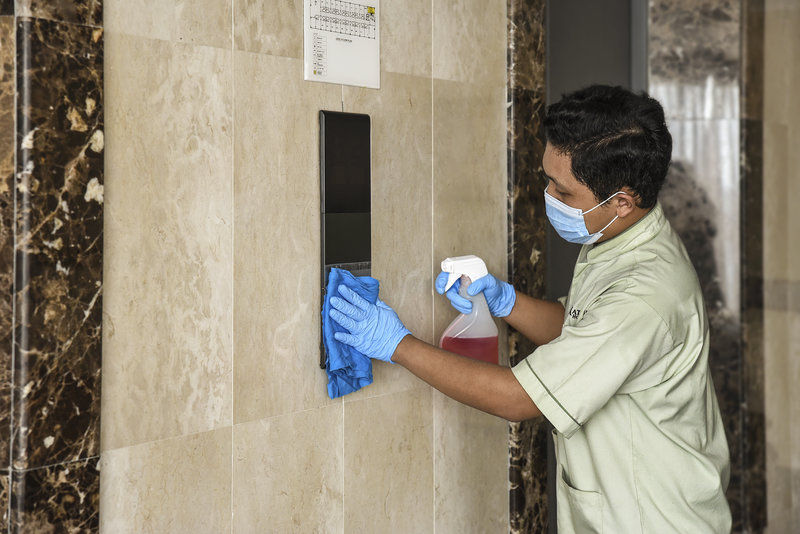 2. Guest Rooms
Room Recovery Protocol – Housekeeping procedures have also been elevated, with extensive training currently taking place. Among the new procedures include no servicing while guests are in their rooms, and guests will now have the option to forgo services during their stay and alternatively receive items to maintain their room including additional trash bags, towels and sheet. Upon check-out, all rooms will be disinfected by a maintenance staff member, followed by detailed housekeeping service. Once complete, the room will be sealed for 48 hours before allowing the next guest to use the guestroom.
Physical Distancing
Social distancing measures are embedded in all services for guest protection, including appropriately spaced fitness equipment, contactless sanitizing stations, check-in and housekeeping services.